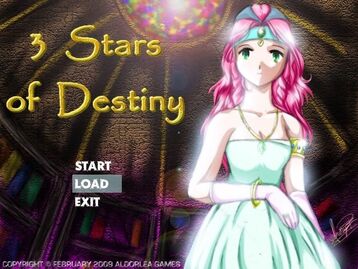 3 Stars of Destiny is a commercial RPG game released in February 2009 by Aldorlea Games . The game is the beginning of Random Pendragon, Sarah Brandolino and Luciana Vicenti and it's the prequel to the popular free ware game Laxius Power .
Overview:
The evil Orc God Ozur has made a discovery, that three youths holds an unsual energy and he wants this energy to himself. But he can't act in his world, so he will set a trap to draw these three youths to his world.
Reception:
3 Stars of Destiny received 87% on RPG Fan Neal Chandran said "3 Stars of Destiny is an enjoyable RPG, but its enjoyment is definitely proportional to how much the player enjoys old-school. It has random encounters, save points, and is more driven by explorative gameplay than by an intricate narrative. Those aspects can be showstoppers for some gamers, but not for me. When all is said and done, 3 Stars of Destiny is the smoothest game Aldorlea has created so far and the one I had the most fun with."
3 Stars of Destiny received 3,5 stars out of 5 on Gamezebo Chad Sapieha said "Whether 3 Stars of Destiny's plot and action is engaging enough to be worthy of a full month of hour-plus play sessions will likely depend on your level of enthusiasm for the genre and your threshold for conventionality."