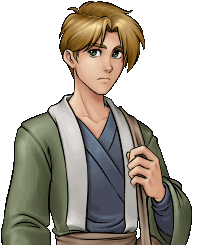 Benoit is a character from the Millennium series.
Overview:
Benoit is Marine's cousin.
He is first encountered in Pinerock and quickly joins permanently.
Benoit is learning Jun-Tsu Ka Ra, an ancient fighting art.
He is a bit reluctant to invest in Marine's quest at first, but at the end of Millennium 2, he decides to offer his help as one of the 13.
Ad blocker interference detected!
Wikia is a free-to-use site that makes money from advertising. We have a modified experience for viewers using ad blockers

Wikia is not accessible if you've made further modifications. Remove the custom ad blocker rule(s) and the page will load as expected.