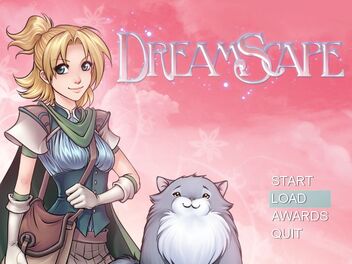 Dreamscape is a commercial RPG game released in March 2010 by Aldorlea Games.
Overview:
Erin is a young woman that studies biology and is happy with her life. One day, her boyfriend Terry calls her and says that he wants to show something amazing to her. When she arrives at his house, he shows her a headphone, but she didn't know the headphones was magical and suddenly she is teleported to a strange world, the strange world of dreams, there she notices Terry getting away at the other side of a bridge. Now Erin has to explore the people's dreams in order to find her boyfriend again. But it won't be easy, as the dreams are full of Glitches, Dream Lords (powerful beings that will do everything to see Erin fail) and Renegades which is the enemies of the dreamlords.
Reception:
Dreamscape received 87% on RPG Fan Neal Chandran said "Dreamscape was a somewhat strange, yet fun RPG experience for me. It was a different flavor than what I'm used to from Aldorlea, but this change was good. Traipsing in and out of peoples' dreams was loads of fun, and I felt a good sense of exploration and discovery."