Laxius Force
is a commercial RPG released in August 2008 by
Aldorlea Games
.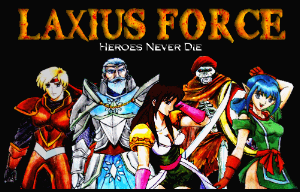 Overview:
The game is the sequel to the popular freeware game Laxius Power III and features the several heroes of the saga: Random Pendragon, Sarah Brandolino, Wendala Diroslav, to name a few.
New characters also join the saga, such as Kratin the skeleton warrior, Djarma the Vizir, or Brussian the cursed werewolf.
Laxius Force has met commercial success and spawned two direct sequels. The trilogy was completed with Laxius Force III - The Last Stand in August 2010.
Reception:
Laxius Force received 84% on RPG Fan. Neal Chandran said "Laxius Force is a great RPG at a great price and what more could you want? It's tough to say no to a 35+ hour RPG with as much, if not more, text/dialogue than some RPGs from major developers that only costs $15."
Laxius Force was awarded a Bronze Award by GamersDailyNews, with the reviewer saying "Laxius Force is an enthralling title that will have you thumping your keyboard as you continue to be enticed by it's addictive characteristics and fantastic storyline."
Laxius Force received 7.5/10 on Cosmosgaming, with Steve Marsh stating "This game is worth the time and effort!"
Casual Gamer Chick said "Laxius Force is definitely worth the $15.00 and if you are a classic RPG fan, you should head over to Laxius Force and try it out."
Jayisgames said Laxius Force is "A good looking, lengthy (30 or so hours of gameplay) and delightfully retro role playing game that will please just about any RPG buff out there."
Characters (Protagonists):
Random Pendragon :
Sarah Brandolino :
Cocka-Cocka :
Marilyis Cana:
Brussian Warren :
Louis de Van Gal :
Wendala Diroslav :
Marion Vencjak :
Askhbar The Tall :
Sandy Richardson :
Herbert Daen West :
Joshua Nevein :
Goddess Yveen :
Kratin Dokodokar :
Djarma Zengaris:
Timbany :
Characters (Antagonists):
The Grand Commendanter :
Balt :
Trivia:
The couple Random Pendragon and Sarah Brandolino appears in all 7 episodes of the saga (3 Stars of Destiny, Laxius Power 1-2-3, Laxius Force 1-2-3).