Laxius Force III
is a commercial RPG released in August 2010 by
Aldorlea Games
.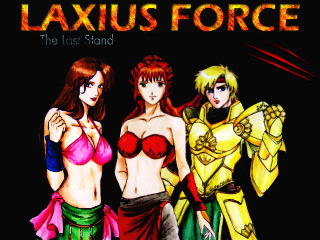 It is the direct sequel to Laxius Force II, with the possibility to import savefiles.
Overview:
Laxius Force III is the final episode in the trilogy. The game begins with a brand new character called Xander and his demon friend called Adon. Random and the other usual characters of the saga only join later on. Laxius Force III is the biggest of the 3 Laxius Force games. It has more than 40 characters total.

Characters (Protagonists):
Random Pendragon :
Sarah Brandolino :
Luciana Vincenti:
Cocka-Cocka :
Marilyis Cana :
Brussian Warren :
Marion Vencjak :
Louis de Van Gal :
Wendala Diroslav :
Askhbar The Tall :
Sandy Richardson :
Herbert Daen West :
Joshua Nevein :
Goddess Yveen :
Kratin Dokodokar :
Djarma Zengaris:
Timbany :
Tarabulla :
Herasia :
Rosa Nazuela :
Guanidia :
Petula Rastbone :
Coryool Tallemuyr :
Alexandra Xander :
Cindy Petite-Fleur :
Broff :
Fierce Braathbaat :
Alexander Xander :
Adon :
Seiman Daho :
Leanda Gorfulthot :
Nash The Drukku Druk and Neon :
Angelina The Wild :
Daryl Stemrock :
Deuterium :
Oglong :
Leona :
Lilly Gun-Fight Evander :
Kenny Rochdale :
Claria Even :
Aaron Black :
Characters (Antagonists):
The Grand Commendanter :
Balt :
Kommender :
Louis de Van Gal :
Ailner :
Titanic :
Hondler :
Guiddiba :
Reception: Laxius Force III met similar response to Laxius Force with players and reviewers, although it is generally agreed to be the best of the trilogy. RPG Fan rated it 85%, with Neal Chandran saying "Laxius Force III provides a satisfying conclusion to this epic trilogy, and fans of Aldorlea's grand-daddy series will certainly be hooked for days, weeks, maybe even months".