Laxius Force II
is a commercial RPG released in August 2009 by
Aldorlea Games
.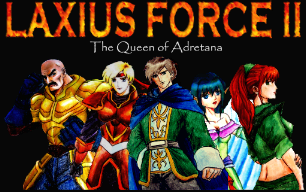 It is the direct sequel to Laxius Force, with the possibility to import savefiles.
Overview:
Laxius Force II begins with the character Luciana Vincenti on a remote island.
Luciana was absent (as a playable character) on Laxius Force, but is a central character in the second episode.
More old characters join as well in this episode, such as Herasia (Luciana's cat), or Guanidia (Random's chameleon pet).
The game features about 20 characters total.
Reception:
Laxius Force II met similar response to Laxius Force with players and reviewers.
RPG Fan rated it 85%.
Characters (Protagonists):
Random Pendragon :
Sarah Brandolino :
Luciana Vincenti:
Cocka-Cocka :
Brussian Warren :
Wendala Diroslav :
Askhbar The Tall :
Herbert Daen West :
Joshua Nevein :
Goddess Yveen :
Tarabulla :
Herasia :
Rosa Nazuela :
Guanidia :
Petula Rastbone :
Julian Xander :
Coryool Tallemuyr :
Alexandra Xander :
Cindy Petite-Fleur :
Broff :
Fierce Braathbaat :
Characters (Antagonists):
The Grand Commendanter :
Balt :
Bang Burn :
The Mosquito :