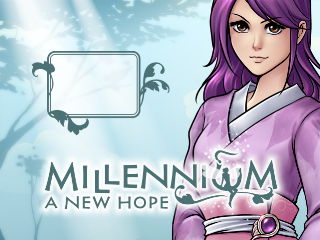 Millennium - A New Hope was released by Aldorlea Games in September 2009.
This is the first of an intended 5 episodes in the saga.
5 episodes have been released so far.
Overview
Edit
Millennium is set in the world of Myst, where a peasant girl called Marine tries to gather 13 warriors in order to participate to a showdown and gain control of the ruling town of Mystrock.
Marine meets her cousin Benoit on her way, and the two of them decide to visit the country with the hope to convert people to their cause.
Characters
Edit
Protagonists
Edit
Marine : The heroine of the series, Marine is a young yet corageous peasant, always ready to help others especially her family. When her father is injured, Marine decides that Mystrock won't decide the future of her country anymore, to change the course of things she decides to go out on a mad quest in order to find and convice 12 warriors to find alongside her against the town.
Jeanne : Once before a lonely fairy, Jeanne has found her way to Marine's left earring after she fell on her, Jeanne is like Marine's councilor and is also her friend. She helps Marine in battles with her abilities.
Benoit : Marine's cousin and a Jun Tsu Ka fighters, an ancient fighting art that allows him make his hands as sharp as swords. He's relucant and sometimes scared of taking decisions. But he always follows Marine whenever she goes and it's always ready to help her.
Karine : A crocodile hunter from the swamp village of Bogobaka. Karine is the first fighter to join Marine's brigade, she joins after Marine and Benoit help her defeat the Rogue, a enormous croc that has been killing the cintinzens of her small village.
Hirado : A Dust Monk from the monastery that lies in the high peaks of Rock Path, Hirado is a very skilled fighter with a soul of a poet. Hirado leaves the monastery to find out more about the world, after Marine discover that he's an amazing fighter, she goes after him and help him defeat a powerfull Djinn-type demon. After that, Hirado agrees to join Marine and help her fight against Mystrock.
Antagonists
Edit
Lord Dragon: The ruler of Mystrock, Lord Dragon is the ruler of the entire country of Myst. He has a tatoo of a dragon in his face and it's a master in Martial Arts.
Lord Borgon: Lord Dragon's councilor, Borgon will do everything to increase the country's richness no matter what. Even if that means getting Marine and her friends out of the way.
Reception
Edit
Millennium - A New Hope received 89% on RPG Fan and was later awarded "Best Indie RPG of the Year" by the same website. Neal Chandran said "the art is gorgeous, the music is great, the gameplay is fun, and the characters make me want to journey with them."
Millennium - A New Hope received 3 stars out of 5 on Gamezebo. Erin Bell said "Millennium's healthy number of secrets and side quests give it a nice amount of depth, with a style of gameplay that rewards people who are thorough and curious".
Millennium - A New Hope also received 84% on Gamesmen.
The game was well received by the players: it has been first in the RPG chart of Big Fish Games on June 5, 2011 and has consistently appeared in the Top 5 for several months.