Sandy Richardson

Economist

Weapon:

Mostly Sabers and Guns

Gender:

Female

Race:

Human

Home:

Rillia
Sandy is a kind woman, she first joined in Laxius Power III and appears in Chapter 3 of Laxius Force - Heroes Never Die.
Overview:
After what happened in the end of Laxius Power III, Sandy got scared of what might happen to her and decided to hide from the world. She decided to hide in the New Institute of Modern Sciences. Random found her when they were blocked by a robot in Mt. Zulle and was looking for help in order to remove the robot of the way. After much persistance from Random and his party members, Sandy decided to join. She helps Random and his friends pass through the eye of the storm with the help of the Ice Crawler.
Eventually, in the first visit inside the dome of Arvendel, they found a device they couldn't operate. Sandy decided to go back to the institute to know more about the device. In the way she was kidnapped by the minions of the Order. When Random was trying to rescue her, she got killed.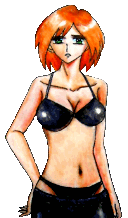 In Laxius Force III, Sandy can be revived.
Battle:
Sandy has a weak attack and defense power, but with the right weapon equiped she can deal large damage to the enemies.